Regular price
Sale price
$67.00 USD
Unit price
per
Sale
Sold out
Low stock
1-3 days shipping

30 days reflection period

Free Shipping
Size chart

Universal, fits in every jacket, vest or other item of clothing.
Product description

The Gløde classic is the first universal electrically heated jacket in the Gløde range.

The Gløde universal electric heating suitable for all jackets, vests & bodywarmers. Turn your own jacket into a heated jacket. With the 6 supplied Velcro adhesive strips, you can easily turn 2 garments into a heated garment.

Material of the universal electric heated jacket
The Glode classic is made of 100% polyester.

Features of the Gløde classic universal jacket
Including 6 adhesive strips, easily change from jacket, body warmer or vest through Velcro technology. Suitable for all sizes of jackets.

NB! This product is supplied without a power bank as standard and can be used with a normal power bank. We do advise choosing a Gløde power bank of 3-6 hours when ordering.

Product description of the Gløde classic
The Gløde Classic universal heating elements has 3 built-in heating elements that can be connected to a power bank and lasts up to 10 minutes. The Gløde Classic can also be worn under a winter coat, during winter sports or as a sports coat. Washable after removing the power bank from the Gløde Classic.

3 Heating panels
The Gløde Classic has 3 built-in heating elements that are connected to the included 10,000 mAh power bank. The Gløde Classic is equipped with a built-in thermal protection module. Once overheated, it will automatically stop until the heat returns to standard temperature. So extra safe.

Choose an included 10,000 mAh power bank
The Gløde classic can be supplied with a rechargeable Gløde power bank of 10,000 mAh. The Gløde classic has an integrated USB connection that can be connected to a power bank.

Temperature adjustable
Universal heater has three carbon fiber heating zones providing fully adjustable heating comfort at the touch of a button. The heating elements can be set in three temperature settings. The electric heated vest provides the most necessary warmth for your body. Regardless of the outside temperature, you can feel the comfort and warmth.

Suitable for all occasions
The Gløde Classic is comfortable and easy to wear. It is water and windproof and is made of breathable fabrics. Especially for outdoor sports, such as skiing, cross-country skiing, running. Ideal for family, friends, employees, outdoor activities such as motorcycling, hiking, camping, fishing, etc.

What is the Gløde classic suitable for?
The Gløde universal electrically heated jacket protects against cold autumn, winter and spring winds. This vest is also the ideal solution for cold indoor spaces when you can't turn on the heating for a while or when you work in the cold attic at home or do a job in the garage.

Relieves pain through the heated universal jacket
The Gløde Classic warms the body, helps to promote blood circulation, burns excess calories and relieves muscle pain. It activates various functions of the skin and promotes metabolism, it increases oxygen content and moisture in the blood and restores vitality: it can regulate physiological functions more deeply, thus relieving pain: it improves the microcirculation of the human body.

Also good for back pain
If you have gone through your back, this vest also provides very pleasant pain relief.

Operating instructions of the universal electric jacket
Long press the power button for 3 seconds. Now it will turn red and is on the highest setting/. You can now change the temperature to Red (high), White (middle) and Blue (Low) with 1 push.


View full details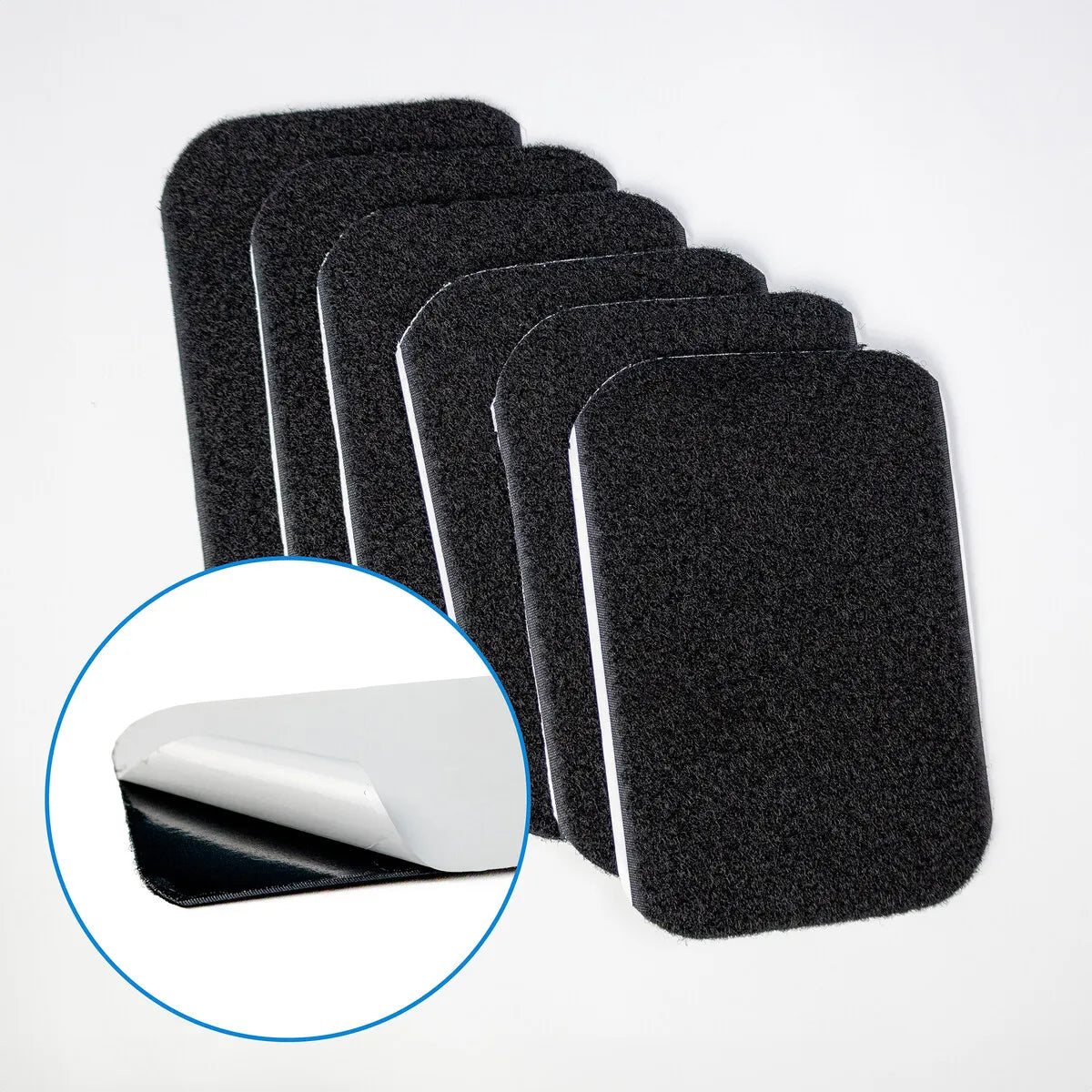 This is how the Øney works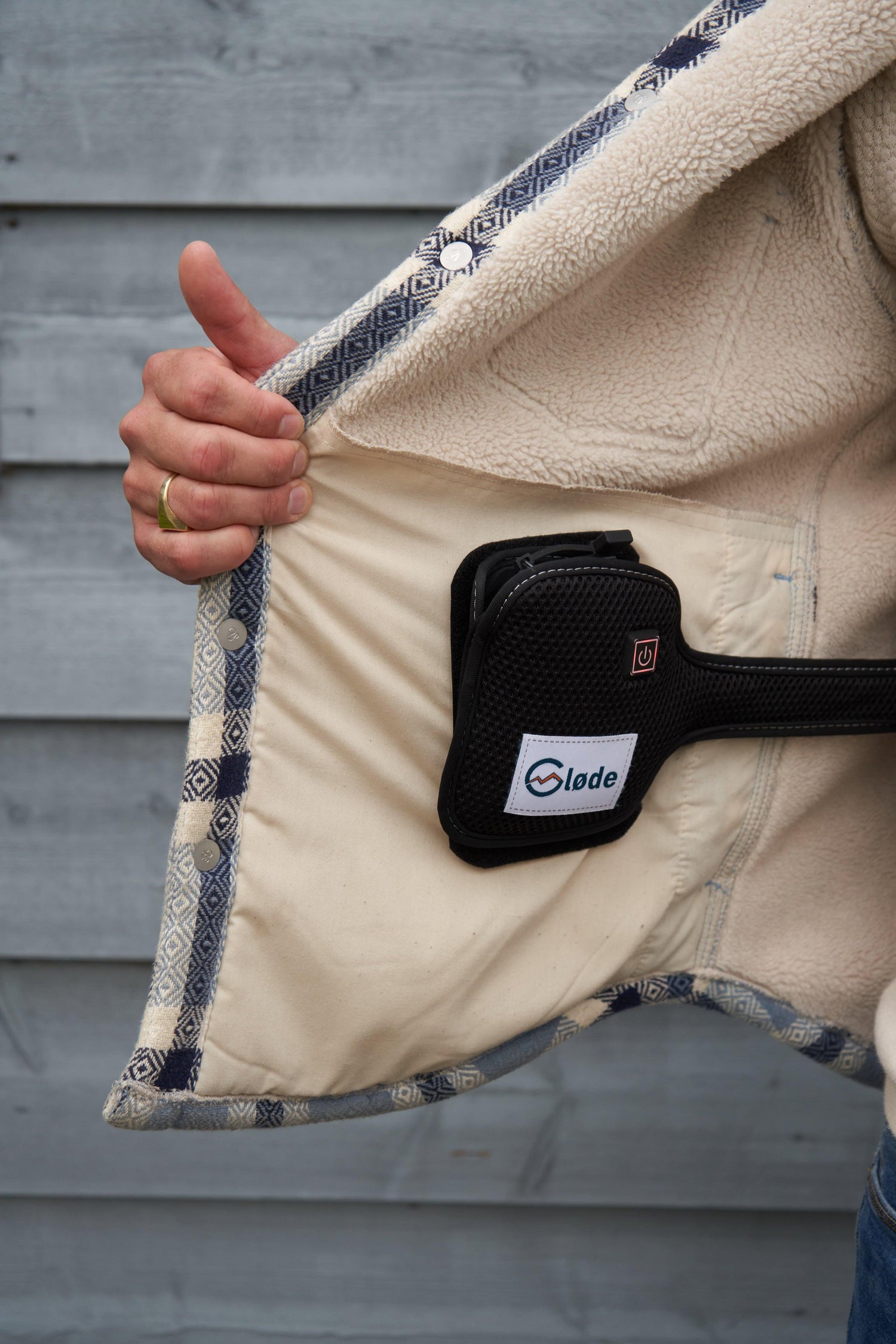 Switch between different jackets
Discover the Øney universal jacket heater now - the ultimate solution for warmth and comfort during cold days! Whether you're wearing a thick winter coat or a light summer outfit, the Øney adapts effortlessly and keeps you warm to size. Thanks to the handy Velcro stickers, you can decide for yourself which garments you want to transform into wonderfully heated items. No more hassle with multiple heated garments, just one versatile solution for all your outfits. Add some magic to your wardrobe and enjoy comfortable warmth with the Øney universal jacket heater!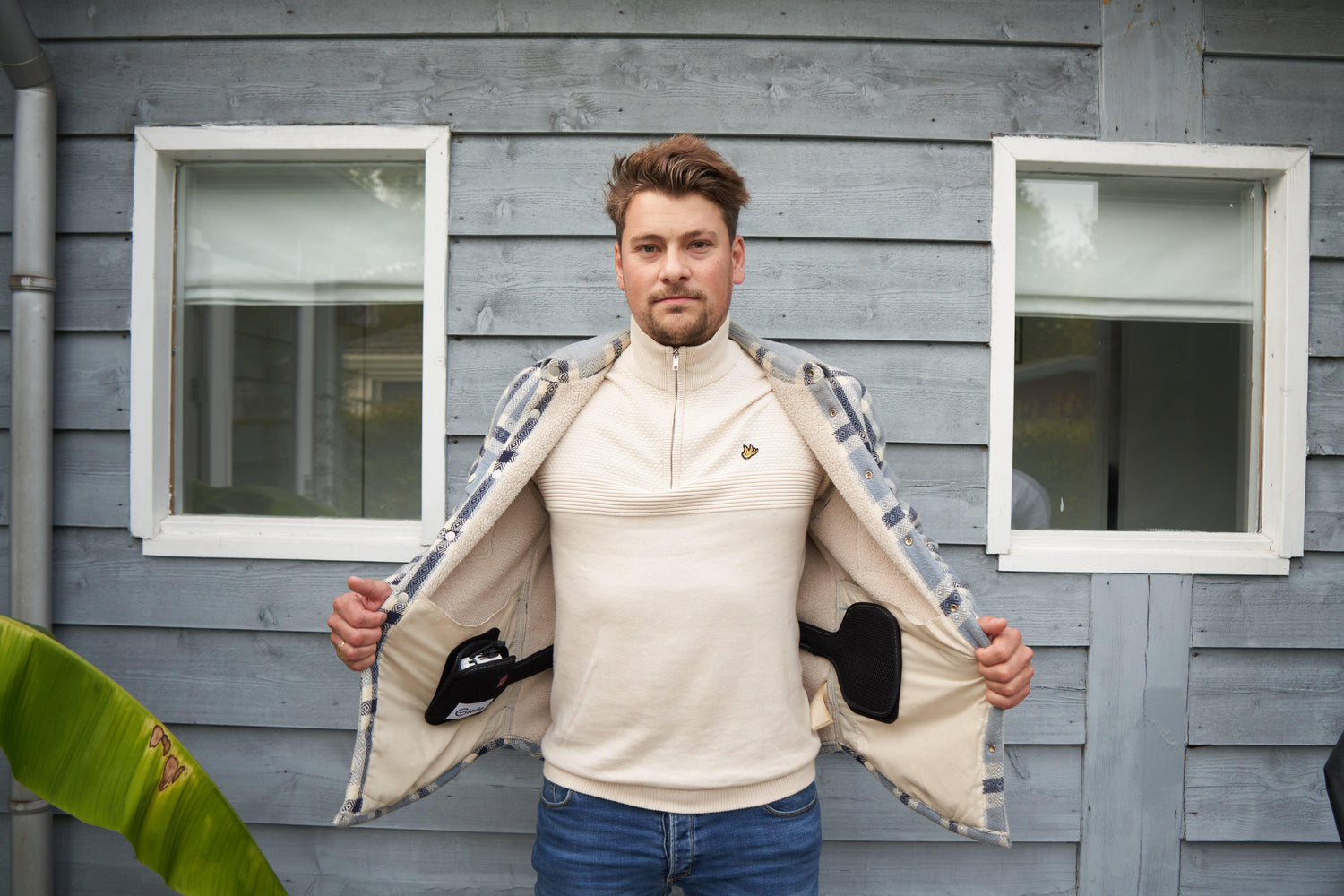 Ideal for camping
Whether you head out into nature early in the morning for an invigorating hike in the woods or challenge yourself with a mountain bike ride on winding trails, the Høgge gilet will keep you warm and comfortable whatever the weather.
Stay active, stay warm and experience magical moments at the campsite with the Høgge heated bodywarmer. Discover the joy of the outdoors without limitations!